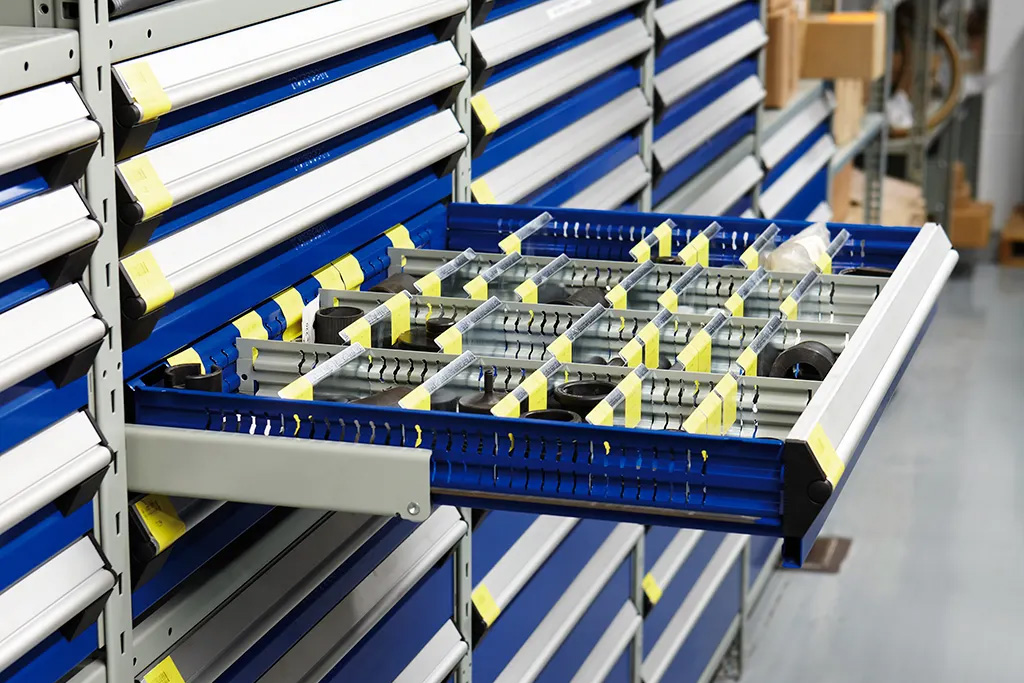 Challenge
Find the ideal solution to maximize the space in the parts department at BMW Mississauga, and by doing so, assemble the entire inventory in one place.
Objective
Create a storage solution that would allow the client to solve the problem of having little space in the parts department, using Spider® Shelving Systems and Rousseau drawers.
---
BMW Mississauga is a prestigious car dealership which serves a huge client base in the Greater Toronto Area, in Canada. This very busy garage was looking for a solution for their lack of space in the existing parts department.
When Derek Copeland, Parts Manager at BMW Mississauga, came to the conclusion that the parts department needed to be renovated, he had already made his decision on which option to go with. The owner of this high-end dealership owns several other dealerships, among them a Ferrari dealership where he had selected Rousseau Storage Solutions in the past. He was so satisfied with the results that he knew right away he would use Rousseau systems for his BMW parts department to get the customized solution he needed.
"He was always available to talk to us. He asked questions about our needs and he presented us with his proposal. I liked their solution very much." This is what Mr. Copeland had to say about our automotive specialist Mike de Prinse. He loved his experience! After a week of working on the project, our distributor was successful in presenting the client with a customized solution, adapted to their specific needs. Quality, modularity, flexibility and efficiency were all combined to provide a personalized solution. The excellent teamwork between Mr. Copeland and Mr. de Prinse was the key to the success of this project!
"Our parts department had a problem with lack of space. It is impressive to see how the layout of the shelving, drawers and accessories in the parts department has made storing all of our materials in a limited space possible, while also maximizing the work environment and storage. The productivity in the parts department has significantly increased since installing these solutions!"
Here is what Mr. Copeland noticed most about Rousseau Storage Systems: "Durability and quality are what best describe Rousseau. Their modular storage materials allow you to create infinite configurations".