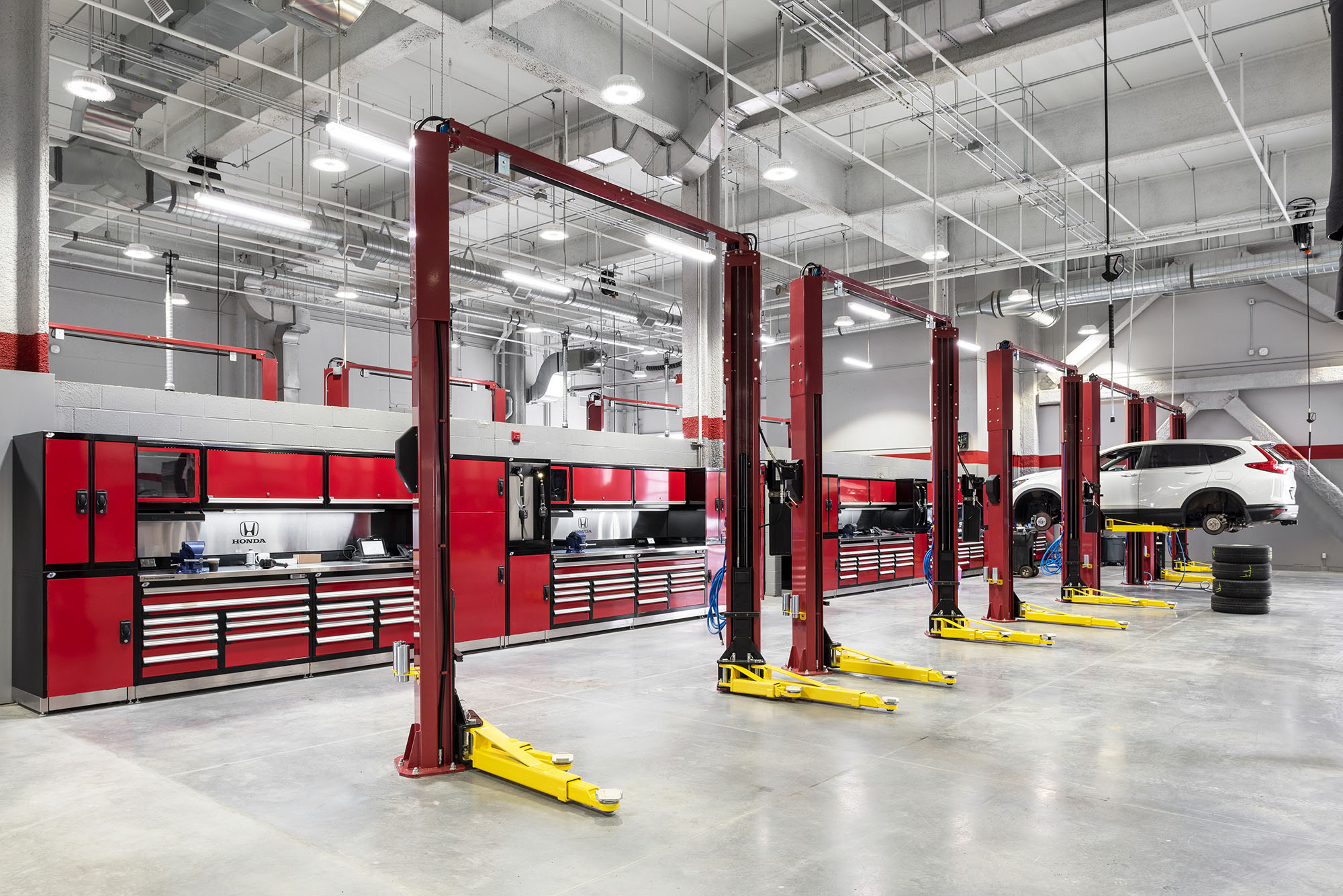 Challenge
The new dealership had to look professional and include technicians workstations, toolboxes, reel cabinets and computer stations.
Objective
Create a comprehensive solution that combined high-quality products, professional aesthetics and efficient workflow.
---
For over 50 years, Marino's Auto Group's promise to its customers has always been to exceed expectations. This business in the greater Toronto area specializes in five vehicle brands: Honda, Subaru, Volvo, Jaguar and Land Rover. Each customer is given a family-style welcome by passionate employees. Their driving force is to provide the best customer service possible. Although the business was thriving for this respected company, it did not want to sit back and rely on its good reputation. Recognizing that the market was evolving, and customers had new expectations, the owners wanted to relocate three of its dealerships to a new location. As a result, the group moved Lakeshore Honda to a building built for the new Queensway Honda.
Located in Etobicoke in Ontario, the new building needed to cater to current needs as well as growth in the medium and long term. This meant choosing a storage system that was flexible enough to scale over time. The group heard about Rousseau at the annual NADA trade show and at the Automotive Conference Expo (ACE). The managers were immediately impressed by the quality of the products on show: "What grabbed our attention most of all was the design and flexibility of the products and, of course, how heavy-duty they were," said Partner Lorenzo D'Alessandro. "We also liked the fact that the products were made entirely in North America."
The group was in the early stages of their relocation project and meeting with the Rousseau team was a turning point. The Rousseau product specialist at Metric Storage Systems, was soon involved in the project. As Mr. D'Alessandro said, "It has been great to work with Rousseau products expert from Metric Automotive– he listened to our needs and presented us with recommendations based on our requirements as well as innovative storage solutions for our parts department. The initial need was for a high-quality workbench solution with a professional appearance, but as we had a more in-depth look at our requirements, we had to find a solution for multiple technician shifts, as well as a way to integrate everything from toolboxes and air and oil reels to computer stations."
Everything was considered in this project. From technicians workstations to alignment stations and oil changes, every detail was included in the creation of workspaces that met the specific needs of the tasks to be performed. The Honda dealership now has stylish and distinctive aesthetics and is a pleasant environment for employees to work in. Mr. D'Alessandro maintains that the quality of the installations is also important for hiring and retaining high-performing employees. "Their design aesthetic makes an impactful statement by presenting a professional appearance not only to our customers but equally as important – to our employees." The work environment's design and functionality of the custom workstations will most likely help recruit top talent in the coming years.
Here is what Mr. Copeland noticed most about Rousseau Storage Systems: "Durability and quality are what best describe Rousseau. Their modular storage materials allow you to create infinite configurations".
Although they didn't know at the start of the project that the three dealerships would turn to Rousseau for their parts and service departments, they were left in no doubt after the Queensway Honda project was completed: Rousseau had the solution. Mr. D'Alessandro summed it up, "Rousseau products have greatly contributed to increased productivity and given the business a more professional look." A few months after completing the Honda Queensway installation, Marino's Auto Group once again called on Rousseau for Marino's Fine Cars Subaru and Jaguar Land Rover Metro West.