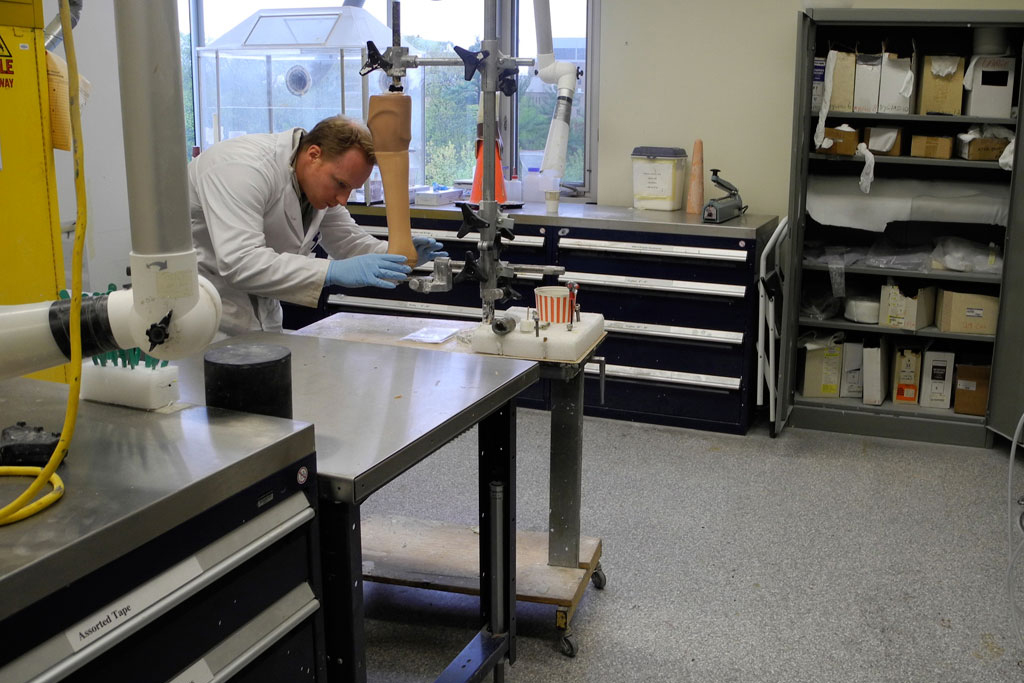 Challenge
For a move to a new building, Bloorview Kids Rehab wanted a functional work space in which laboratory technicians could easily access their equipment while enjoying more storage.
Objective
Create an ergonomic environment from the available space while increasing storage capacity.
---
"We were able to achieve the goal of having tools close at hand in an attractive ergonomic environment," claimed Sumant Singh, project consultant and manager at Bloorview Kids Rehab, while explaining how Rousseau helped the laboratory technicians with their daily tasks. Located in Ontario, Bloorview Kids Rehab clinic specializes in the manufacture of artificial arms and legs, mainly for children and adolescents, as well as specialized prostheses and equipment. Mr. Singh continued, "We wanted workbenches for our new clinical technology building." This was when Metric Storage Systems got involved.
The clinical technology department was being moved to a new building. The new floor space was about 3,000 square feet and was primarily located on the 4th floor of a building. Andy Robb, an experienced salesman at Metric, described the challenge, "They were replacing existing equipment and wanted to add storage. We had to provide workstations with a lot of storage for tools and equipment needed by their technicians for making prosthetics." The order included 79 workbenches and 79 "R" cabinets to be installed under the workbenches. "There were also flipper doors and roll-out shelves, Rousseau modular drawers in shelving and Mini-Racking," he added. "It's one of the largest projects I've ever done."
In terms of how the project unfolded, Robb highlighted the excellent contribution of Rousseau, "It went very well. The customer is happy because they gained more storage space and lots of work space." Working with Sumant Singh from Bloorview and the specialist distributor Metric Storage Systems, Rousseau was able to meet tight delivery deadlines without compromising the specifications set by the client and the quality of the products delivered. This also significantly helped with moving the whole department into the new building. Commenting on the new look of the work area, Sumant Singh added, "We made many improvements through this consultative approach. The color, which is midnight blue, adds to the aesthetics of a lab of this type and size, while ensuring that we maintained a professional look and feel." Accessories above the work surfaces as well as drawers and lights were all added to the installation to help the laboratory technicians perform their tasks effectively. The modularity of Rousseau products helped the clinic create an environment that really met the needs of the laboratory technicians.
Commenting on his experience with Rousseau, Andy Robb had this to say, "They are constantly making improvements. Some companies on the market never change their products. They are not as flexible as Rousseau is.'' It is this flexibility and quality of Rousseau products that made this large project such a success.